Prioritizing Health, Safety, and Community
A Note to Our Valued Customers
Walser Automotive Group considers the health and safety of our employees and their families our priority.
Considering current world events regarding the coronavirus (COVID-19), we want to provide an update on Walser's response to the situation inside our business.

As a company, our role and responsibilities are focused in two areas: the health and wellbeing of our employees and our customers. With that in mind, Walser is taking trusted guidance from the CDC, our internal health providers, and Minnesota's health agencies.

While all Walser locations remain open and continue to operate with the same level of customer care and service, Walser has taken a series of precautionary steps to maintain a level of hygiene and cleanliness for our visiting customers and employees, including:
– Increased deep cleaning and sanitizing procedures across all major touchpoints in our retail locations and offices.
– Continued education on correct handwashing and respiratory hygiene practices.
– Use of gloves by all automotive technicians and other affiliated service employees who encounter customer vehicles; wipe down of vehicles before and after service repairs, test drives, and movement of vehicles.
– Replacing handshakes with warm salutations and verbal greetings.
– Flexible leave protocol and mental health offerings which encourages any employees who are feeling unwell to stay home. This is supported by a flexible paid time off protocol, so employees do not need to feel like they need to choose between their health and their work.

In addition, Walser's sales teams are ready and willing to bring our vehicles to you. Customers interested in test drives or working directly with a member of our sales staff from the comfort of their own home or workplace should contact a Walser representative to schedule an in-person appointment. Plus, you can shop our latest inventory and vehicle specials online anytime at Walser.com.

As the world copes with the growing impact of this outbreak, we remain steadfast in the belief that people will uphold personal responsibility to prevent the spread of this virus through responsible hygiene practices and self-quarantining practices as needed.

As a company, we'll continue to do what is right for our employees, our customers and the community. We will continue to stay close to our local health officials and trusted partners, and we are optimistic this will be a temporary situation.

We are privileged to serve you and this community and look forward to seeing you soon.

Regards,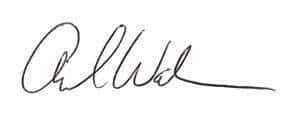 Andrew Walser
CEO
Walser Automotive Group